3d printer parts:By knowing the fundamental segments of FDM 3D printers, how they work, and what they are fit for, we are able to:
obtain better quality, strength and speed,
easily maintain by DIY the 3D printer when needed,
select the right 3D printing machine and Parts of your requirements,
upgrade and modify parts for specific applications.
The top prioritized components of desktop 3D printers have been brought to your hands below, it deserves to have a look before going for one,
Z Resolution – Layer Thickness:
Layer thickness is the minimum thickness of a FDM desktop 3D printer that can lay down in a single pass. Smaller parts are precise and detailed with the help of the smaller number thickness by the way it consumes time too. Manufacturers stated that, with the metal 3D printer they got fine precision at 65 microns (0.065).
The build area of the 3D printer design is the most initial decisions you going to look for in which the size is equivalent to the price. It simply means that, the maximum print area it specifies is the maximum size of an object which a printer can print.
Here they are in the printers. You can start to see how they relate to each other in size. From left to right, you're looking at the New Matter MOD-t (silver), the Dreammaker Overlord Pro Plus (blue), the LulzBot Mini (green), the Ultimaker 3 (white), and the MakerBot Replicator+ (red).

Different Build area of 3D printer
Filament Diameter

3D filaments are special types of plastics called thermoplastics. Once heated to the right temperature, thermoplastics become flexible. It's this pliability that allows the printer to sculpt the filament to create your shapes before it cools down. One of the primary specifications that a 3D printing professional looks for when shopping for filaments is the filament diameter. Filaments come in two standard diameter options: 1.75 mm and 3.00 mm. Whichever filament size you decide to get, make sure to pay attention to the filament's tolerance and roundness figures. While 3.00 mm filaments are less affected by shape and diameter variations, you should still be getting your filament from a supplier that can produce filaments with more consistent quality.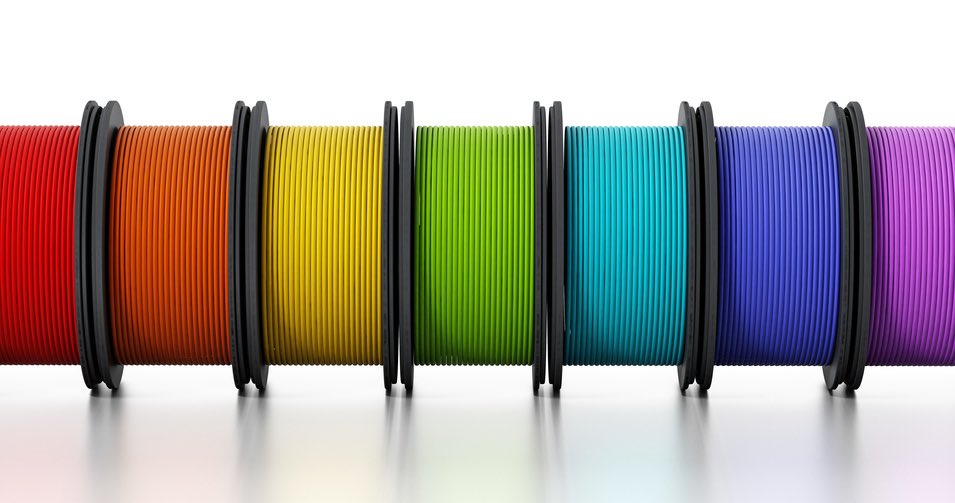 3D printer filaments
Source: https://3dinsider.com/wp-content/uploads/2017/03/best-3d-printing-filaments.jpg
The Hot end is an assembly of parts that handle hot or molten filament. This usually consists of Nozzle, Heater, Thermocouple and Heater block.Where the cold end directly manipulates the filament, pushing and pulling as required by the 3D printer, the hot end is where… well, the hot stuff happens.
Inside the assembly known as the hot end the filament passes into a heated chamber, where it transitions from solid to liquid. Sounds simple, and it mostly is. Though there is a lot going on to allow the filament to silkily extrude onto your build plate.
Since this is where the filament heats up & partially liquifies, itget's quite hot (250 degrees celsius!) and is insulated from the rest of the printer because you wouldn't want something like this to happen…Ok, it definitely won't light you on fire. However, the extruder is hot so be careful not to touch it and burn yourself. Different materials may print best at different temperatures so the sensor is important and it's temperature can be set with your slicing program.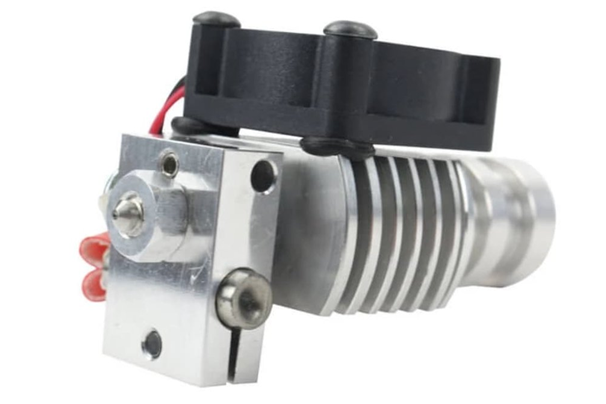 Hot end
Source: https://i.all3dp.com/cdn-cgi/image/fit=cover,w=1000,gravity=0.5×0.5,format=auto/wp-content/uploads/2018/06/21180234/prometheus.jpg
When it comes to dialing in your 3D printer, the nozzle is often overlooked. As the last part to be in contact with filament, the nozzle can influence strength, print time, and print material.It actually extrudes the filament to build the part. As you can image, this can have a large impact on how long your part takes to print as well as the quality of the final object.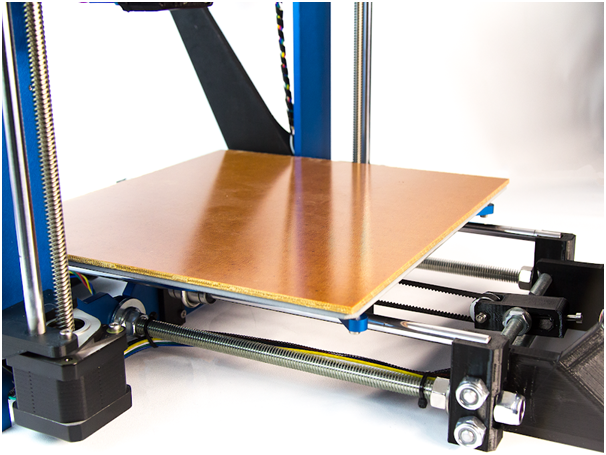 3D printer extruder nozzle
Source: https://i.all3dp.com/cdn-cgi/image/fit=cover,w=1284,h=722,gravity=0.5×0.5,format=auto/wp-content/uploads/2018/07/26143258/a-selection-of-nozzles-thomas-sanladerer-180703.jpg
The 3D printer extruder is a series of parts that together handle the moving and processing of plastic filament.Some people think of the extruder as only the motor and associated parts that push and pull the filament — others, the entire assembly including the heated part that melts and deposits the filament.But what the 3D extruder is, the part of the 3D printer that ejects material in liquid or semi-liquid form in order to deposit it in successive layers within the 3D printing volume. In some cases, the extruder serves only to deposit a bonding agent used to solidify a material that is originally in powder form.
3D printer extruder
Source: https://cdn2.sculpteo.com/wp-content/uploads/elementor/thumbs/3d-extruder-depositing-plastic-filament-3d-printing-platform-o8yxec0z2qgkxj7a5gxpo75lnpr4ujhkux4gx84uzs.jpg
The main problems encountered with 3D printer extruders are the same as with inkjet printers, which is poor maintenance or the use of the wrong materials leading to deterioration or fouling the nozzle that projects the material. In the particular case of 3D FDM printers, the main problem stems from print nozzles that are blocked by hardened plastic unable to leave the extruder or by slack or space in the plastic extrusion axis, causing discontinuous extrusion.
Fans are cool. Literally. Fans are designed to move air. They either push cold air over hot components or pull hot air out of enclosed spaces. Either way, they create a cooling effect. However, it is still a good idea to have one, and in the case of smaller heatsinks and cheaper components, it's certainly a necessity. It is highly recommend having a fan for your control board.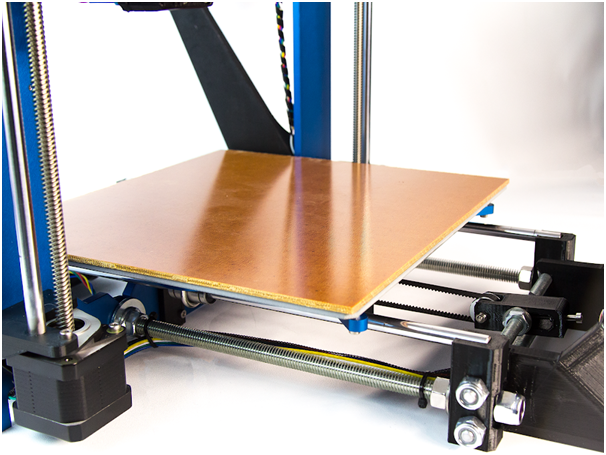 3D printer Cooling fan
Source: https://i.all3dp.com/cdn-cgi/image/fit=cover,w=1000,gravity=0.5×0.5,format=auto/wp-content/uploads/2019/09/06175505/the-hot-end-fan-on-a-herome-mount-emmett-grames-all3dp-190903_download.jpg
Heat beds are used because they dramatically improve print quality by keeping the extruded plastic warm and thus preventing warping. Warping is a common condition caused by plastic on the edges of the part cooling down at an uneven rate when compared to the plastic inside of the part. The result is that corners warp up and deform your model.
3D printer heated bed
Source: http://bootsindustries.com/wordpress/wp-content/uploads/2016/03/MK2A-PCB-Heatbed-for-3D-printing.jpg
Print Bed Surface
The key to a successful 3D print is a good first layer, and the key to a successful first layer is choosing the right print bed surface for the material you are 3D printing. In this guide, we will go through the most popular 3D materials to print with and describe the best techniques for getting them to stick to the bed and achieving a stellar first layer.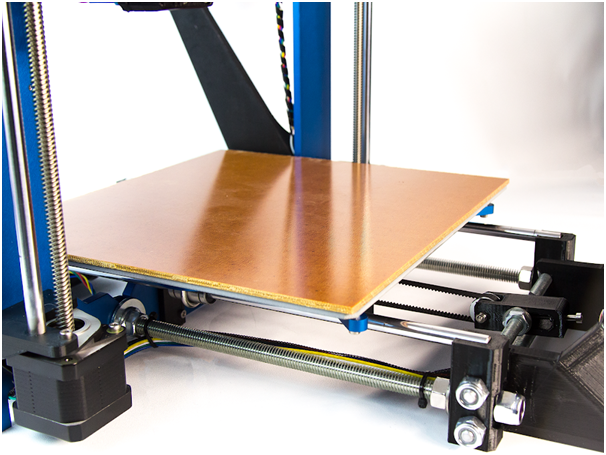 3D print bed surface
Source:https://lh3.googleusercontent.com/tfjgRHEh23dgxGBAbbpysxiY3asJeHMAWxgt6FDF_CNtG1OI8ems1jLd0BnEDGI8JxONlVKFW14S6VKWbJEv9Qb3Yw=w900
The firmware of your printer will determine how things are displayed, what options you are given, and how navigation functions. In general though, and you can find temperature for all your nozzles and the bed, what percent power your fan is running at, your print speed multiplier, elapsed time since the print started, and sometimes a progress bar or percentage of completion.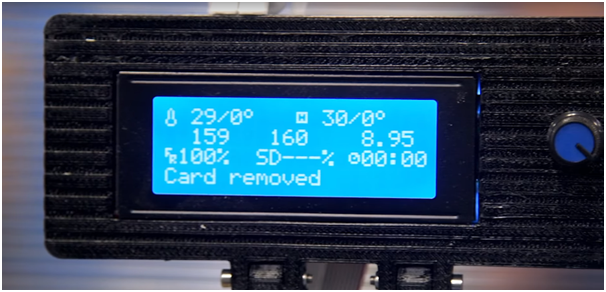 3D printer LCD
Source: https://lh3.googleusercontent.com/FEKLGvmkSoNv3D_9ZuDUblBbP3ix7O4qvZvPh6Ab-4rHU32f9yfmUwLZnXkYCTWBC9PjBx7PDbtaaX8ivB54CuUA=w900
Multiple extruder setup is one of the less popular methods for producing multi-color and multi-material prints, and it's not that difficult to figure out why.So a dual extruder setup is already complicated enough to deal with, even for some of the more experienced tinkerers. Introducing another variable to an already complicated equation is pushing it. To set up a multi-material print using three or more extruders, and you will need to create a separate process for each extruder. Within each process you can choose what models will be printed with that color or material.
3D printer multiple extruders
Source: https://www.3dnatives.com/en/wp-content/uploads/sites/2/Dual3DP_Geeetech.jp